8H Lift Ticket + Round trip Bus Fee
Round Bus Ticket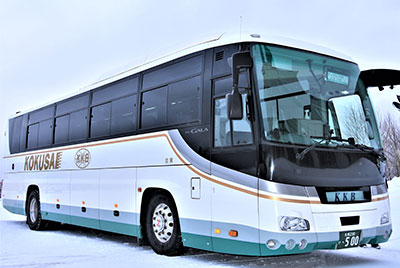 Direct bus from same city hotel


From Sapporo city center, take BIGRUNS bus 50 - 80 minutes
*Bus & Lift Pass Pack
■ Operating period :4Dec.2021 -27 Mar.2022
This is very useful package which includes round trip ticket of "BIGRUNS" from Sapporo's main hotels to Sapporo Teine.
Fare
8H Lift Ticket + Round trip Bus Fee
Adults
¥7,200
Primary School and Under
¥4,700
One way Ticket
Adults
¥2,800
Primary School and Under
¥2,200
Notes
Reservations are accepted until 18:00, 7 days prior.(Only round-trip bus packages with lift pass can be reserved until 3:00 p.m. on the previous day if seats are available.)
When you apply,we need to know your boarding day,how many boarding members are,name of representative of boarding members,and the hotel that you stayed yesterday.
Gathering time of each front is 10 minutes before of departure time.
We will give you lift pack ticket when you take on the bus.
Please pay and take your lift ticket at Teine lift ticketing point.
Cancellation fee: 7 to 2 days before the travel date 30%, previous day- 40%, same day prior to departure- 50%, same day without notification- 100%
For a list of participating hotels and timetables, please click here.
Reservation site
Telephone Reservations & Inquiries:
[Big Runs Desk] Kamori Kanko Co., Ltd. Hokkaido Governor-Registered Travel Agency 2-559
Inquiry via email  bigruns-teine@kamori.co.jp
TEL & FAX (AM9:00 to PM6:00):
TEL: +81-11-223-5901 FAX: +81-11-223-5831
e-mail: bigruns-teine@kamori.co.jp